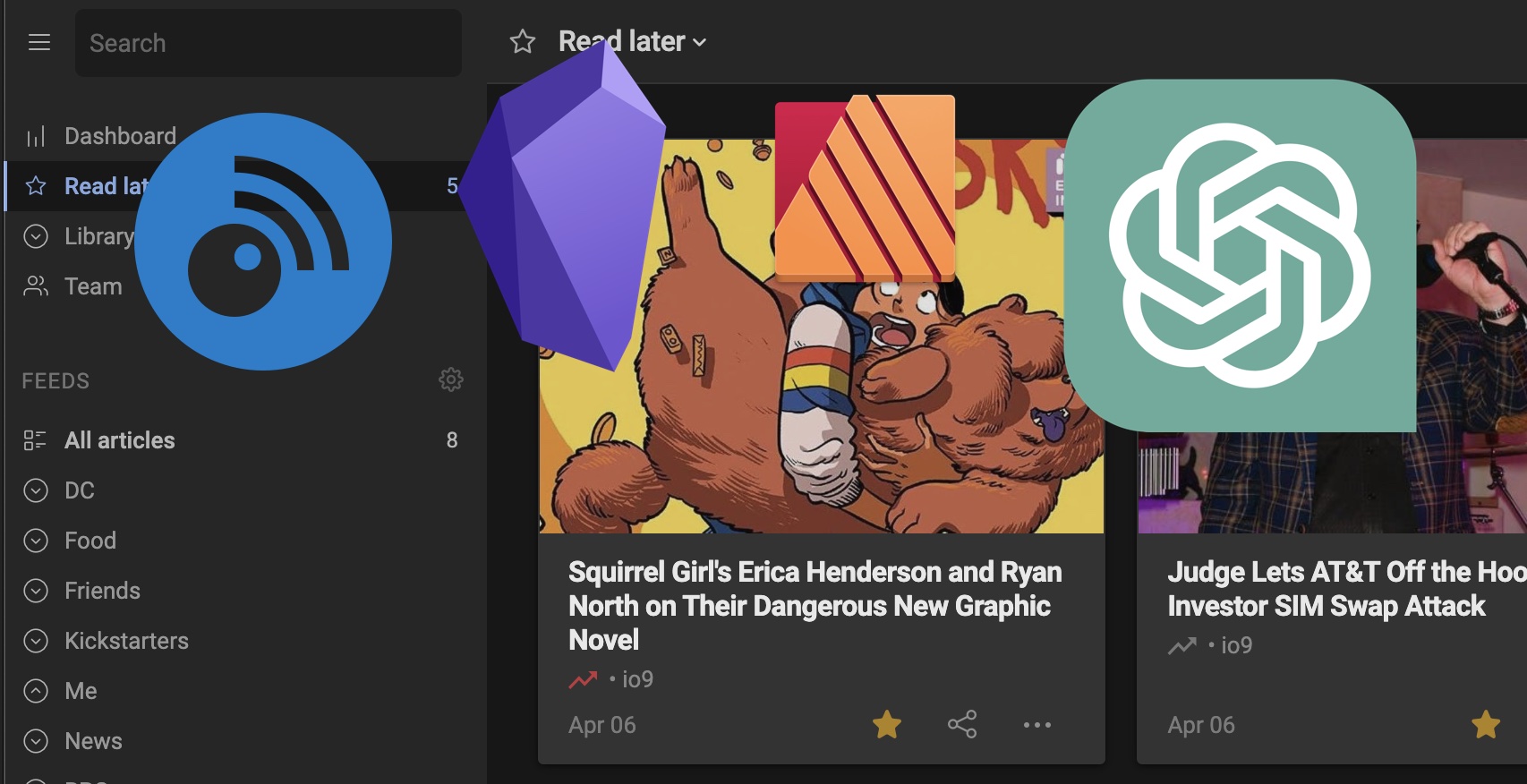 Essential Apps and Services I'm using in 2023
Recent Discoveries
To spend less time each day doom scrolling content, I've condensed my web reading into a daily scan of a paid subscription to Inoreader, which is in the top handful of successful spiritual descendants of the long-dead GoogleReader. The killer features beyond RSS for me are
managing newsletter subscriptions through aliases, including substack
syncing my Youtube Subscription as feeds
letting me filter out content so that I can avoid spoilers for shows and upcoming movies
This markdown note-taker allows now runs my digital bullet journal and personal and professional knowledge stores. As a local application, the Grammarly install helps me write like someone who graduated college, which gets harder every year. I've found the snappiness and future-proof nature of a local markdown editor to be so efficient, I've even started using it as the editor for my Jekyll web projects.
I keep my plugins simple, as it's easy to make systems so complicated that they get in the way of Getting Things Done. My current plugins:
Calendar
Natural Language Dates
Rollover Daily Todos
I have access to Adobe Creative Suite through work, but for personal machines, I realize that I might not have these tools forever and would be better off having raster, vector, and layout software suite I can turn to. While I mostly find myself cropping and adjusting photos, I did get to use this recently for publishing a small Zine. Yes, I'm a nerd.
ChatGPT
I believe we are at an inflection point for technology as large as the introduction of personal computers or web search. While I played around with image generators, the large language models of OpenAI's ChatGPT are a sign of things to come. I've written production code with ChatGPT. It writes my regular expressions. It doesn't have to get any smarter to have changed the way I use the internet and I suspect this is just the beginning.
Home Assistant
I've taken more direct and local control of smart home devices in my house. I am using a docker container install of the popular open-source home automation platform, Home Assistant, along with a USB dongle Zigbee radio for more efficient communication to devices without having to go over Wifi or doing a network roundtrip to the cloud. While there are plenty of SaaS-dependent devices in my home, and I don't think that will change, I've started to shift to local projects and automation:
A smart light switch and motion detectors for my home office
Water sensors for detecting basement flooding
Still testing
I loved working with IFTTT, but I think I've outgrown its overly simple user interface. I only have one or two automatons running on Zapier but built-in testing and actual JSON controls might mean that I eventually spring for the quite expensive first tier of this cloud automator. Honestly though, this feels like something I should be able to find a self-managed option for. Unfortunately, most of the on-prem automators are oriented around the SOAR use case for cybersecurity automation, which doesn't match what I need.
I'm testing a switch to Arc for my personal computer to stop tab sprawl and condense my daily driver web experience. Muscle memory still finds me in Chrome every day, so I'm not sure if I'll make the switch permanently.
Still using
Tried and true, the lightweight but modular Visual Studio Code is installed on every computer I touch.
A Password Manager
Working in a computer security company, it's amazing how many people around me don't use a password manager. Given all the breaches this year, I'm not going to list the SaaS password manager I use, but it's one of the big ones. I pay for a family plan so that my partner and I can have a shared folder for joint accounts. It's worth it.
Dropbox
I continue to get value from my 2TB plan. It's both my backup for essential files and keepsakes as well as syncing important things across all devices on all platforms.
Blender
I learned the OpenSource 3D art package during the pandemic. I'm not as quick with it as when I was using it almost daily, but it is still my main 3D editor.
Spotify
I think I've had a Spotify subscription for over 10 years now. The integration with smart home assistants is fantastic, though my Sonos smart speaker setup isn't working as well as I'd like right now.